Fire extinguisher maintenance and installation:
Fire extinguisher maintenance:

Fire extinguisher maintenance should be carried out by a qualified Service Technician annually. All of our Service Technicians are trained in accordance with BS 5306 Part 3 and the servicing of all fire extinguishers is carried out to this level. We can also service fire blankets at the same time as servicing fire extinguishers.

We offer two levels of servicing contract:

All inclusive:
Pay a fixed fee per fire extinguisher which includes basic spare parts at the time of service.
Pay per unit:
Our pay per unit service means that you pay for each unit serviced and pay an additional charge for any spare parts used.

Our engineers carry a comprehensive stock of spare parts, extinguishers and refills on their vans meaning that all service activities can be completed onsite.

A certificate of inspection is issued on completion for each site maintained and we also maintain records of the types and locations of extinguishers at your site. Copies are available at no additional charge.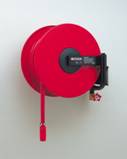 Site surveys:
We can also carry out site surveys undertaking a full assessment of fire prevention equipment for fire extinguishers, signage and ancillary products. A full report and quotation will be produced.
Fire extinguisher installation:
We also supply and install new fire extinguishers and hose reels . These can be despatched directly to your premises or fitting and installation can be undertaken by our engineers at your premises for a small additional fee.
Our engineers can also provide the following services:
Relocation of fire extinguishers to new premises
Wall mounting of fire extinguisher
Installation of fire safety signage including fire extinguisher ID signs
Supply of ancillary equipment including stands, fire protection boxes, covers and fire blankets

If you require any further information on the above, please call us on 0161 688 5050.
For further information regarding the uses and types of fire extinguishers, please see our customer guidance booklet.
north west fire customer guidance booklet